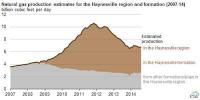 EIA uses two differing methods to determine production from major and minor oil and natural gas plays onshore in the United States. One method takes a geographic approach, focusing on surface-level analysis, and the other method uses a geologic approach, focusing on formation-level details. The differences between these two approaches can provide information on potentially emerging plays.
EIA's Drilling Productivity Report (DPR) examines surface activity to analyze production. Production from counties overlying major producing regions, as well as pipeline flow and drilling rig movement, are used to estimate total production. The DPR is focused on analyzing the relationships between drilling efficiency in a region—such as production volumes compared to rig counts—and the oil and natural gas production from that region.
The DPR's focus on surface activity means that these production volumes do not distinguish between the specific geologic formations into which individual rigs are drilling. Formations can overlap each other like layers of a cake. For instance, production in the Permian Basin region of Texas shows production from the Spraberry, Wolfcamp, Bone Spring, Delaware, Glorieta, and Yeso formations, reflecting various drilling depths associated with each formation within the basin.