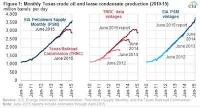 Market analysts have a keen interest in understanding how crude oil production in key states has been affected by recent changes in crude oil prices and drilling activity. EIA develops state-level production estimates for selected states that are based in part on state-level data.
However, data published by state agencies are often incomplete when first published because of a combination of late reporting and processing delays, mainly due to the filing of production reports that do not contain all required information. Because EIA's methodology for state-level production estimates aims to anticipate and account for expected revisions to data collected by the states, state-level production data published by EIA and state agencies can differ.
Production data for Texas, the largest crude-oil producing state, published by EIA in the Petroleum Supply Monthly(PSM) and by the Texas Railroad Commission (TRRC) in its monthly reports, reflect differences in the treatment of incomplete and lagged data. Texas production data in the PSM and TRRC reports published in June 2015 are virtually identical through 2013, but there is a gap between the reported data for more recent months that grows larger for months closer to the present. The middle panel of the graphic shows how data reported by the TRRC have evolved over time as processing and filing proceeds, with significant upward revisions in the data for recent months covered in each report as later reports are issued. The right-hand panel shows EIA's PSM estimates, which, given EIA's effort to account for expected revisions to state agency data in its initial estimates, generally do not show large revisions as later reports are issued.
There are several reasons why the TRRC's initial reports tend to be low. For one, some reports are placed in a pending file while waiting for other state reporting requirements to be satisfied. In addition, there are always delinquent reports from oil and natural gas operators and reports with discrepancies that take time to resolve. Each month, Texas posts its own calculation of how low its initial estimated production values are. In addition, EIA has for several years measured the change in reported volume from month 1 to month 24, showing an average increase of 30%. These issues are eventually resolved, and the production data are incorporated into TRRC's published reports, generally over the course of about two years.