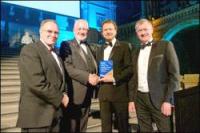 The Energy Industries Council (EIC) is delighted to announce SPX Flow as the winner of the EIC Award for Supply Chain Excellence 2015, held at the EIC National Dinner last night.
Description: C:\Users\elliot.sinclair\Downloads\EIC2015-1226.jpgThe award – presented in front of an audience of over 500 members and guests at the Natural History Museum, London – recognises an EIC member company that has demonstrated superiority in the energy supply chain.
SPX Flow beat tough competition from a wide selection of submissions to scoop the accolade.
SPX Flow's ClydeUnion Pumps brand offered a compelling case to win the competition, with its unique Turbine Water Lubricated (TWL) reactor cooling water pump. The pumping solution, approved by the US Nuclear Regulatory Commission, ensures that emergency reactor cooling is sustained during complete station blackouts and can function even in extreme conditions like flooding. This helps to protect the future of nuclear energy as a safe, sustainable and secure power source.