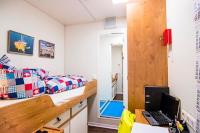 ELA Container Offshore GmbH has announced that they gained the DNV 2.7-2 certification for their ELA Offshore Accommodation Containers. With this, ELA Offshore is continuing its commitment to deliver high quality products for the offshore oil and gas and wind industry, which are manufactured in Germany to international standards and requirements. The latest modules are now certified according to DNV 2.7-2, a recognised international standard of requirements for offshore service modules and living quarter containers. The DNV 2.7-2 certification addresses key safety aspects required for the offshore container in order to comply with the industry standards like SOLAS and MODU codes.
"DNV 2.7-2 describes safety requirements for temporary offshore container modules. Whereas DNV 2.7-1 is focusing on lifting and transportation of offshore modules, accordingly is addressing the structure and strength of the module; DNV 2.7-2 incorporates these structural aspects relating to in service operations. Besides fire protection, the main focus is on electrical installations and requirements, based on international IEC standards and safety related topics in order to maintain a safe working environment on offshore platforms or vessels," explains Hans Gatzemeier, Managing Director of ELA Container Offshore GmbH.
Flexibility is still provided by the ELA modular system. Depending on customers' requirements all ELA Offshore Accommodation Units can be delivered including the DNV 2.7-2 certification. Due to the different accommodation possibilities, the units can be provided as for instance office room, recreation room, galley and dining rooms as well as living quarters and changing rooms.