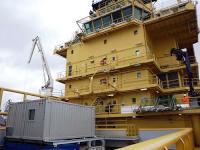 ELA Container Offshore GmbH has delivered two 20-foot Offshore Multipurpose Containers to Siem Offshore Contractors GmbH, a company based in Leer, Germany. The containers were installed on board the Siddis Mariner, which is currently operating as a Walk-to-Work Service Operation Vessel (SOV) on an offshore wind farm located in the North Sea. The offshore wind farm is located about 100 km north of the island Borkum and comprises 80 wind turbines with a total capacity of 400 MW.
Siem Offshore Contractor's is a provider of subsea cable installation, maintenance and repair for both the oil and gas as well as renewable energy markets, with a particular focus on the offshore wind, wave and tidal energy. SOC has made the decision to buy the container system.
The two 20-foot Offshore containers were designed, manufactured and delivered by ELA as a two-room system. By removing two side walls, a mobile space with a total area of 24 m2 was created. This design is certified according to DNV 2.7-1 and therefore meets the highest international offshore standards. The containers are equipped as one large changing room with two free-standing clothing racks made of seawater-resistant type 316 stainless steel, which can be used for drying up to 48 work suits as well as 26 double-door lockers for clothing or private items. The dressing room has two benches and a 800 x 800mm A60 window offering a good overview of the main deck of the ship.
"The project has once again shown that ELA Offshore can meet customer requirements, develop a solution and implement it within a very short time", stated Hans Gatzemeier, Managing Director of ELA Container Offshore GmbH. The containers were mounted on board the Siddis Mariner, where they were placed in front of the bridge and stacked on top of other containers on a custom made steel foundation. Both, the assembly work and the interconnection of the A60 insulation, were carried out by experienced ELA technicians. Jan Holtermann, IRM Manager of Siem Offshore Contractors, stated; "We received only positive feedback from the crew at the Siddis Mariner and are very satisfied with the smooth project process."