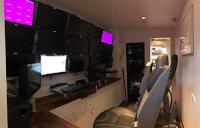 ELA Container Offshore GmbH has recently delivered an ELA Offshore Multipurpose Room to VBMS, which will be used on board their MV Ndeavor, a 7,500 DWT DP-2 vessel, built and outfitted for cable-lying in 2013 by Boskalis.
VBMS is a subsidiary of Royal Boskalis Westminster N.V., specialised in subsea power cable installation, Balance of Plant maintenance for the renewable market, SURF installation for the oil and gas market and installation of interconnectors.
After delivery of the Multipurpose Room to the VBMS warehouse in Moerdijk in The Netherlands, the container was transferred to a state of the art control room to be used to operate their ROV Trenchers, which lay and bury power cables in shallow and deep water. The control room provides capacity for two persons who can monitor the ROV on multiple screens.
Boskalis was looking for a high quality room to accommodate their ROV monitoring systems and crew in a comfortable and safe environment. ELA Offshore containers are "Made in Germany" and are compliant with all necessary health and safety regulations to provide high quality accommodation.
"Since the lead time was very short and the deadline of the project was approaching rapidly, we were able to deliver the container from stock on very short notice. The container was painted in VBMS house colours, enabling our customer to install all their equipment and run tests before starting the project on board," says Frank ter Haak, Business Development Manager at ELA Container Offshore.
"After arrival of the container we were very pleased with the high quality finishing and the superb insulation. We were particularly pleased with the fact that both A60 marine doors were equipped with a window, in order to have day light entering the room during work shifts", says Jan Bes, Subsea Equipment Supervisor at VBMS.