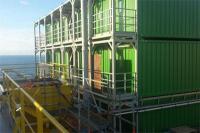 ELA completed the qualification questionnaire and finished its profile at First Point Assessment Limited (FPAL) which is an oil and gas supply chain database.
Achilles FPAL is used as a major tool by oil and gas companies to select potential suppliers and awarding contracts. ELA recently joined to provide a profile for buyers to identify and assess the company during the tender process.
"This platform allows us to promote our containers and services towards a broad range of buying organisations – locally and also in new markets", Managing Director of ELA Container Offshore GmbH, Hans Gatzemeier, said.