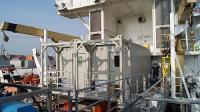 ELA Container Offshore GmbH delivered two Offshore Living Quarters to Belgium based G-Tec Offshore s.a. The containers were placed on board of the multi-purpose drilling vessel MV Omalius off the coast of France. The solution on deck turned out to be very successful as the units have also been used for other projects since then.
Currently the MV Omalius is working in the construction phase of the Merkur wind farm, located approximately 45 kilometres north of the islands of Borkum, Germany where GeoSea, Belgian Deme Group's 's specialist will realise the construction of Merkur Offshore. The wind farm will be one of Germany's largest wind farms with 66 offshore turbines of 6 megawatt each capable of providing clean energy to power 500,000 homes.
G-tec provides specialised geotechnical engineering services, as well as marine geophysical surveys and marine environmental surveys. In particular, their services are targeted to customers active in dredging, offshore renewable energy, ports & coastal development, infrastructure & civil engineering, pipelines and cables, and mining and quarries.
The Omalius is a 275-foot DP2+ multi-purpose drilling vessel suitable for offshore geotechnical site investigation, drilling works, ROV inspection and other related offshore support.
The containers were needed immediately, as the vessel was almost ready to start the project. The space on deck was limited due to the fact a lot of machinery was installed for this particular project. "After inspection on site we managed to find the best location suitable for the expansion and the preparations on board began instantly," explains Frank ter Haak, Business Development Manager Netherlands at ELA Container Offshore GmbH.
Both containers were pre-assembled, each with a Gangway Container attached to each front end in order to provide easy access to each container from the deck. ELA took care of loading of the containers at the premises in Haren, Germany and also secured them for transportation.
"During past offshore projects we recognised the need to deliver containers immediately or just within a few days. To be able to promise and realise an on-time delivery to our clients, we start producing new containers for our fleet as soon as stock is low. Again this was a perfect example of how quick we can provide a solution to our clients. In the meantime we also have used containers on stock that we can offer to our clients at attractive rates," says Managing Director of ELA Container Offshore GmbH, Hans Gatzemeier.