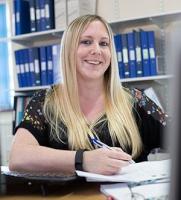 Electrical engineer Emma Fulcher has joined navigation aids specialists Pharos Marine Sims Systems.
Fulcher, who previously worked at Proserv, Great Yarmouth, has joined the design engineering team at its Gorleston base.
Her role involves designing navigation aids systems for offshore platforms, which include foghorns, marine lanterns, fog detectors, solar regulators and solar panels.
Fulcher, who achieved her offshore qualifications and Higher National Diploma (HND) whilst working at Proserv, where she designed subsea control systems, completed an engineering apprenticeship with Lintott Control Systems in Norwich.
The former Taverham High School student said an apprenticeship was the best route she could have taken, supported by the now defunct East Anglian Group for Industrial Training (EAGIT) and Norwich City College: "At university I wouldn't have got the hands-on experience I have had."
Fulcher started her career at 17 in the workshop at Lintott, which designed and manufactured water treatment systems for water companies. Her interest in engineering grew during her AS level in design technology: "I enjoy the design and CAD more than the practical. I enjoy the challenges that come up and seeking solutions to them. The difference designing systems for offshore is that it is an ex-rated environment – a hazardous area because of the gases and explosive atmospheres so it has to be designed to be even more robust."