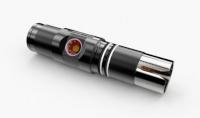 Probe Holdings, Inc., a technology firm that designs, manufactures and sells well logging and reservoir monitoring tools and systems for the oil and gas industry, announced that its electro-hydraulic setting tool, the iSet™, is about to perform its first operation in the Middle East, where it is expected to continue to drive new safety and efficiency standards in well intervention and abandonment operations that require the use of setting tools.
With its innovative programmable touchscreen technology, the iSet provides a safer, more reliable and cost-effective method for setting bridge plugs, packers, gauge hangers and straddles.
"Unlike traditional setting tools, the iSet doesn't require explosive setting charges, so it's not only safer, it doesn't demand special permits to use or transport it, so there are no complex logistics to overcome," says Neil Duncan, Regional Manager-MENA & Asia for Probe. "It can also be run up to 50 times without the need for redressing between runs. On return to surface, the tool can be safely re-set in less than one minute and ready for the next run within 30 minutes, so it's extremely efficient. As a result of these unique features, downhole setting operations are dramatically improved, which ultimately affects operating costs."
Following wide adoption by service companies in the North Sea, Continental Europe and West Africa since its launch in Spring 2015, the iSet has arrived in the Middle East, and will be used for the first time in the region. During the coming weeks, at least two service companies have expressed interest in running demonstration jobs for operators in the region. Following the introduction of the iSet at SPE-KSA 2016 ATS&E in April, Probe anticipates that operators and service companies in the Middle East will be quick to embrace the iSet.
Concerns about conducting safe, reliable and cost-effective operations are at an all-time high. Over the years, many operators seeking safer, less complicated, methods of setting downhole devices opted to dispense with the traditional explosive setting tools widely used in the industry. Hydrostatic pressure-activated devices were one alternative, but often fall short of the mark in shallower wells and require pressurised Nitrogen modules to achieve the required setting forces.
To provide an optimum solution, Probe developed the iSet, which addresses the issues posed by both explosive and hydrostatic pressure setting tools. Its unique electro-mechanical design offers distinct advantages. First, it produces sufficient setting force, even in lower pressure wells. Second, setting time is equivalent to that of explosive devices. Third, simple to use Cyclops Touch touchscreen technology, coupled with the iSet's rapid reset feature means that operators can be trained to run the tool in less than 30 minutes. Fourth, the iSet can be run on slickline or e-line and will operate in temperatures to 150oC and pressures to 15,000 psi. Finally, the tool records critical diagnostic parameters, including pressure, temperature, displacement, setting force, battery voltage, motor current and 3-axis acceleration. The data provide the operator with an overview of the setting cycle, and assurance that the downhole device has been successfully set.
The iSet electro-mechanical setting tool can be operated in Memory or Surface Read-out mode. In Memory mode, the iSet uses the simple, patent-pending touchscreen interface Cyclops Touch, which allows two-way communication so that the user can programme and validate tool settings at the wellsite without using a laptop or dismantling the tool. This is a significant benefit when working in hazardous areas.
The iSet is available in two sizes, 3.6 inch and 2.165 inch O.D., and features 60,000 lbs and 30,000 lbs setting force capabilities over a 10-in. stroke, respectively. The iSet operates on two alternative power sources. If deployed on slickline in Memory mode, AA alkaline batteries are used to power the system; if deployed on e-line in surface readout mode, it's powered from a panel at surface.