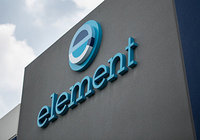 Element Materials Technology has partnered with RAMLAB (Rotterdam Additive Manufacturing LAB), a 3D printing field laboratory, to develop knowledge in the field of metal printing, 3D design and certification, with a special focus on the offshore and maritime sectors.
RAMLAB, an initiative of Port of Rotterdam, InnovationQuarter and RDM Makerspace in collaboration with partners across industry and academia, aims to manufacture large certified metal parts through additive manufacturing.
Element is helping to develop new test methods to ensure that the materials and structures produced by RAMLAB's Wire Arc Additive Manufacturing (WAAM) technology are of the highest quality. Experts at Element Amsterdam are using their knowledge and donating their time to test structures, where no testing standards currently exist. The Amsterdam facility specialises in materials testing, corrosion testing, weld testing, product qualification testing and failure analysis services to the oil & gas and aerospace sectors.
Vincent Wegener, Managing Director at RAMLAB, says, "We are very excited to welcome Element as a partner. Element's deep knowledge and expertise in materials testing and especially additive manufacturing will prove invaluable as we work together towards fulfilling our vision of manufacturing certified metal parts on demand."
Rod Martin, EVP Oil & Gas, Element, comments, "We are proud to be leading developments in additive manufacturing and testing methods by collaborating with RAMLAB and its partners. Additive manufacturing technology is quite advanced in the aerospace and medical device sectors but completely underdeveloped for the oil & gas and maritime sectors, which is what makes this project so exciting. The collaboration will ensure that Element stays at the forefront of new developments in additive manufacturing techniques for these industries."
With the recent acquisition of Exova, Element is a world leader in the provision of materials testing, fracture mechanics, corrosion, coatings, NDT, welding support services including full-scale testing and asset life management for pipelines and other oil & gas assets. Element has 25 Oil & Gas testing laboratories and five technical centres of excellence, with over 100 years of oil & gas industry experience in supporting the development, application and deployment of test and qualification methods for materials, components, products and systems across the sector.