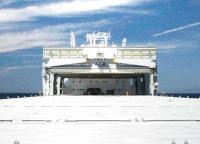 Eli Vassenden, COO Ship Management in Grieg Star, has been awarded the WISTA LeaderShip Award 2015 by WISTA Norway as recognition of her contribution the maritime industry, her competency and leadership skills within the traditionally male dominated role of COO. The award is handed out at Nor-Shipping's Opening Conference on 2 June.
"Eli Vassenden has lived up to WISTA's core values and contributed to the development of the maritime industry through her many years working in a traditionally male dominated role of COO. She is professional, open-minded and dedicated, and an important role model for younger women in the industry", says Bjørg Ekornrud, President for WISTA Norway.
Eli has worked in the shipping industry for more than 30 years, mainly within management, acquisitions and logistics in addition to ship management and crewing. She also has extensive international experience, from both Europe and the Far East.