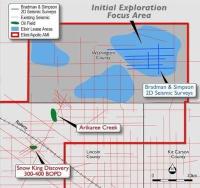 Elixir Petroleum Limited says that after two week delay due to unseasonably wet weather conditions in the USA, it has completed the acquisition of the Simpson 2D seismic survey over the recently identified prospects within the Petra Project in Colorado.
The Simpson 2D was designed to complement the recently completed Bradman 2D seismic survey which has already confirmed the existence of large conventional oil prospects within the Petra Project area. The infill seismic acquired as part of the Simpson 2D will allow the Joint Venture to more accurately define the crests of the conventional structures already identified and better locate its initial exploration wells.
Once the new Simpson 2D seismic survey data is processed, interpreted and integrated with the full data set, which is expected to be completed within the next two weeks, the Company will be able to provide an initial prospective resource estimate over the initial prospects.