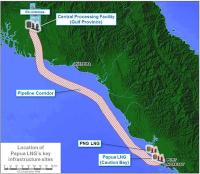 InterOil Corporation and the PRL 15 joint venture participants have unanimously endorsed recommendations from Total SA for key project infrastructure sites for development of the Elk-Antelope gas field in Papua New Guinea.
The central processing facility for the Elk-Antelope gas field, on which the project is based, will be near the Purari River in the Gulf Province, about 360km north-west of Port Moresby, and will be connected to the LNG facility by onshore and offshore gas and condensate pipelines.
Caution Bay near Port Moresby has been selected as the site for Papua New Guinea's second liquefied natural gas plant.
The project will be known as Papua LNG.
Papua LNG, which will be operated by Total SA and includes InterOil and Oil Search, will further refine site locations and pipeline corridors as part of project development.