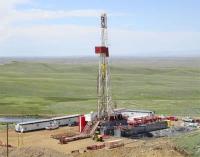 Elk Petroleum Ltd is pleased to provide a further update on the progress of the Company's ongoing discussions with Denbury Onshore LLC (Denbury) over the Grieve CO2 Enhanced Oil Recovery (EOR) Project in Wyoming.
Denbury is a subsidiary of Denbury Resources Inc. Denbury is both a joint venture participant in and operator of the Grieve EOR Project.
As advised to the market on 28 October 2015, Elk is currently in good faith negotiations with Denbury for the sale of all or part of Denbury's 65% interest in Grieve. Discussions are continuing to progress and as such, both Elk and Denbury have agreed to further extend the termination of the negotiation period from 30 November 2015 to 18 December 2015 (12 midnight US Central Standard Time), or until viable and productive negotiations cease.