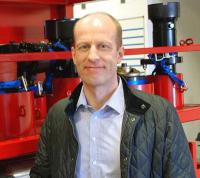 Elmar has appointed Keith Thomson as Global After Sales Manager.
Mr Thomson, who brings over 26 years of wireline operations experience to this role, joins Elmar from Baker Hughes where he held the position of Wireline Account Manager.
He will be based in Elmar's Aberdeen office, responsible for maintaining the high standard of customer support and coordinating the expansion of after sales activities across Elmar's 13 international bases.
Andrew Douglas, Sales and Marketing Director at Elmar said: "Keith's extensive knowledge of wireline intervention and industry management experience will make him an excellent addition to the team as we concentrate on expanding and improving our after sales offering.
"We have some exciting plans for our after sales division. Streamlining our processes and increasing our focus on supporting our customers will I ensure that they get the most out of our range of products.
"Keith will manage a number of key responsibilities during this time of change which will allow Elmar's after sales department to continue to run as efficiently as possible. Meeting the needs of our clients and offering them an excellent standard of customer care is a priority for us, and Keith's appointment will allow for this to continue."