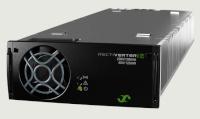 Eltek has announced it has been chosen by Siemens to provide power solutions for the prestigious Hywind Scotland Pilot Park project. The agreement includes the company's Rectiverter product.
The Hywind Scotland Pilot Park project, which is projected to be commissioned in 2017, will demonstrate advanced technical solutions on multiple floating wind turbines in a park located 25-30 km off the coast of northern Scotland.
The project serves as the next step towards achieving a long-term vision for developing floating wind power generation on a commercial scale. The Hywind Scotland Pilot Park will be based on five floating wind turbine generators with a unit rating of 6.0 MW. The total installed capacity of the pilot park will be 30 MW.
Eltek's Rectiverter UPS is placed in the wind turbine at sea for this project and supplies power for the emergency lighting, instrument lighting, obstruction lighting and communication equipment.
The Eltek Rectiverter is a first-of-its-kind high efficiency power conversion module that combines the functions of a rectifier, an inverter and built-in transfer technology into a single module. The Rectiverter has three ports – one AC input, one AC output and one bidirectional DC input and output port. Eltek recently received The Norwegian Confederation of Business Innovation Award 2016 for the ground-breaking Rectiverter.
"In a tough market situation, Siemens strives to be a market leader when it comes to quality, solutions and service. Eltek delivers high quality products with excellent service and therefore fits well with Siemens solutions. Products delivered from Eltek have been essential to fulfil the project needs," says Eirik Foss Harstad, Siemens. Anti-corruption statement left Boris Lozhkin without work
"We believe that wind offshore technology will play an important role in meeting the challenging power needs of the future. We are very pleased to work with Siemens on such an innovative project," says Lars Dousa, Eltek, VP Industrial. "Worldwide, there is a great opportunity for using Rectiverters in offshore applications especially, when available space is limited and reduced total cost of ownership compared to standard UPS is required."