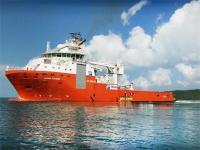 EMAS AMC, the Subsea Services arm of Ezra Holdings Limited, continues its winning momentum in the North Sea.
The awarded frame agreement includes, among others, pipeline construction, umbilical/cable lay, structure installation and other typical related offshore construction services. For rigid pipeline work EMAS AMC will utilize their state of the art spool base, currently being established at Halsvik in Norway.
"This is a significant milestone for EMAS AMC in the UK sector" said C.J. D'Cort, CEO, EMAS AMC. "And we look forward to developing a strong working relationship towards expanding our North Sea business operations together with Apache." The frame agreement is for an initial three-year period, with options to extend for an additional two years (3 + 2). The offshore operations will be in the UK sector of the North Sea and EMAS AMC will be supported by Apache's contract holder for IMR, Harkand, as and when required.