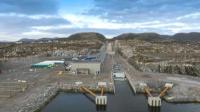 EMAS AMC announced the award of a contract from Apache North Sea Ltd (Apache) for rigid pipelay on the Aviat field development in the UK North Sea.
The contract is valued at approximately US$36 million, and is awarded under the auspices of the three-year frame agreement with Apache for offshore construction services in the UK announced on August 18, 2014.
"We are pleased to announce this strategically important award from Apache, which is an excellent example of our strong offerings in terms of competence, assets and infrastructure within offshore construction services in the North Sea. We have a great cooperation with Apache, and are looking forward to project planning and execution in pursuance of the highest industry and HSE standards," says Svein Haug, Regional Head of EMAS AMC's Oslo office.
Scope of work includes project management, detailed engineering, procurement, and installation of 23.2 km rigid pipelines and 24 km umbilical via reel, flexible riser, spools, and structures as well as survey, diving and pre-commissioning. In project execution, EMAS AMC will utilise its state of the art spoolbase EMAS Marine Base Gulen, located on the West coast of Norway, to fabricate the 24 km rigid pipeline, and its pipelay reel vessel, Lewek Express.