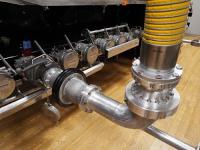 With operator safety paramount during loading and unloading of road tankers, Emco Wheaton's new TODO Emergency Break-Away Coupling for Bottom Loading Applications will eliminate damages and risk of spillage while ensuring operators are protected against drive-away incidents.
The tried and tested TODO 4-inch Aluminium Break-Away has been specifically adapted for bottom loading arm applications with the addition of a TTMA flange. Not only can the device be applied on new loading arms, it also means the break-away can be retrofitted to bottom hose loading arms that currently incorporate this type of flange in their construction.
The addition of the flange and use of the break-away coupling gives operators peace of mind knowing that should a drive-away incident occur, the break-away will disconnect and minimise risk of product loss. Equally important, the break-away would take the force of the incident thereby protecting the API coupler and loading arm. By keeping the design concept simple, the break-away coupler can be re-set on site after an event with an easy to install kit so any downtime is reduced.
Emco Wheaton North American Product Manager for TODO Holly Damude says, "The consequences of drive-away incidents are very serious without break-away protection. Our new TODO TTMA Break-away coupler removes the human error element when transferring dangerous fluids."
The 4-inch Aluminium TODO TTMA Break-away consists of two identical halves joined together by a series of 3.0 mm break-pins, allowing the break-away to be configured to separate at a defined load. Should an excessive load be placed on the loading arm, the pins break and the break-away separates, automatically closing the internal valves. The break-away can then be reset onsite using an Emco Wheaton aftermarket kit.
This new variant of the break-away coupler is designed to operate reliably in hazardous conditions, ensuring that liquid is delivered without spillage or contamination, at all times protecting the driver and the environment.