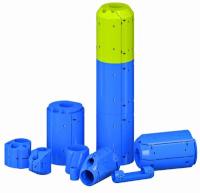 Emerson Process Management is to bring production in-house for its PolyOil polymer clamping solutions. The new production facilities will be based in Emerson's current PolyOil facilities in Dyce and will lead to the recruitment of new production personnel.
The move will also ensure ever-closer integration between the design and manufacturing teams in developing bespoke polymer solutions for the drilling, completions and subsea sectors and significantly reduce lead-times for customers. It also reflects continued growth for PolyOil solutions - sales of which have more than doubled every year over the past three years.
"At a time where optimism has been hard to find in the local Aberdeen oil & gas sector, this announcement is testament to the continued hard work of our team and the strong demand for our drilling and completion solutions," said Matthew Armstrong, director downhole operations for Emerson's PolyOil solutions. "By bringing our production facilities in-house, we will not only be expanding our workforce but also delivering customers with ever faster time to market and an integratedapproach to design and manufacturing."
The PolyOil portfolio of subsea and downhole completion products are focused on bringing modern materials technology to drilling and completions with its range of specialized polymer clamps that overcoming friction and wear & tear; hold and protect cables, umbilicals and other subsea equipment; and ensure improved subsea and well integrity. Other benefits include ease of use and improved HSE.