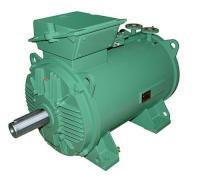 The IMfinity® induction motor range developed by Leroy-Somer has now expanded with the Liquid Cooled (LC) series. Designed to withstand harsh environments and meet specific requirements, the LC motor range is a step forward to satisfy the most demanding customer expectations in terms of high reliability, energy savings and ease of integration into their facilities.
Based on the success and reliability of the IMfinity platform, the LC motors achieve the highest electrical and mechanical performance, including some innovative characteristics:
The latest generation frame housing, with cast iron or steel flanges for DE and NDE bearings, allowing excellent heat dissipation.
A sophisticated cooling system which maintains the thermal efficiency, enabling the motor to be used together with a variable speed drive, for heavy duty applications that require constant torque.
Reduced noise level, decreased in average by -10 to -20 dB (A) compared to air-cooled motors due to the lack of fan, offering ultimate comfort.
Improved modularity thanks to its fabricated steel design, providing higher flexibility for retrofit installation.
The liquid cooling system of LC motors, provided by water circulation over the frame housing, offers additional significant advantages, such as the power-weight ratio (increased power in the same motor frame size) and compactness (saving up to 25% of volume compared to an air-cooled motor for easier and less costly integration within a machine or a system. Moreover, LC technology makes it possible to eliminate external components, such as ventilation equipment.
Based on the new IMfinity® induction motor range, the LC series has been designed to achieve the efficiency levels defined in IEC 60034-30-1. As standard, LC motors are IE3 Premium from 150 to 1500 kW.
Perfectly suited for use in variable speed, the LC motor has been designed to integrate specific features as standard, such as a thermal reserve for maintaining the rated torque over an extended speed range. In order to meet particular requirements, options can be provided upon request, including reinforced winding insulation and insulated bearings. The motor can also be equipped with an encoder for applications that require precise positioning.
Variable speed can generate immediate operating profits, such as up to 50% energy savings (depending on the application and operating conditions) or increased productivity as a result of improving the process and reducing machine downtime. The return on investment is consequently extremely quick.
Benefitting from optional IP56 or IP65 protection to safeguard against external hazards, the LC range is fitted with a water leakage detector to control the water circuit reliability.
Another option, space heaters, ensure safety during motor start-up, while winding and endshield thermal protection control and monitor the motor temperature.
Developed to reduce operating costs without compromising industry needs, LC motors are equipped with a patented breathable membrane. This completely waterproof (IP 66 minimum) feature considerably reduces condensates, whose evacuation is achieved by drain plugs.
The Liquid-Cooled technology ensures a clean surrounding environment, as there is no pollution associated with airflow. Moreover, there is no impact on ambient temperature, as the waste heat from the motor is carried away by the cooling circulation. For these reasons, the risk of installation ageing and malfunctioning .due to air pollution and high temperatures is considerably lowered.