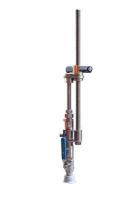 Emerson Process Management has launched an innovative new corrosion monitoring system for refineries. The Roxar Corrosion Monitoring system, consisting of wireless-based probes, will provide refineries with flexible, responsive, integrated and highly accurate corrosion monitoring.
Combined with the Emerson's non-intrusive Field Signature Method (FSM) technology, a non-intrusive system for monitoring internal corrosion at the pipewall, refinery operators will be able to access more comprehensive corrosion information and corrosion rates, leading to improved operator insight and control over assets.
The new system will ensure optimal production processes and reduce refinery downtime with only the necessary amount of corrosion inhibitors being injected to meet environmental requirements.
The wireless-based corrosion monitoring solution also comes with fast response times, continuous measurements and installation in the plant's most critical and often inaccessible sections. The system provides crucial information to risk-based inspections with other wireless benefits including reduced installation costs and improved data management.