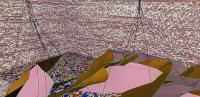 Emerson Automation Solutions has launched the latest version of its reservoir characterisation and modelling software, Roxar RMS 10.1. Through even greater advances to the seismic to flow simulation workflow and versatile decision-support tools, Roxar RMS 10.1 takes collaboration and integration between domains a step further, supporting optimal decision-making. RMS 10.1 is also designed to deliver greater ease of use and performance for improved productivity.
"Roxar RMS is all about getting the absolute best out of both your reservoir model and your people," says Kjetil Fagervik, vice president of Roxar Software product development and marketing, Emerson Automation Solutions. "This is what we are achieving with the further development and expansion of our portfolio. RMS 10.1 delivers significant improvements across the geophysics, geology and reservoir engineering domains; provides highly accurate models and reliable simulations; and ensures that operators make the right field planning and reservoir management decisions for optimal production."
Key features of RMS 10.1 include:
Strengthening the Seismic to Simulation Workflow. RMS 10.1 introduces extended functionalities within the seismic domain, bridging the gaps between seismic interpretation and geological modeling. Features include enhanced seismic resolution on horizons and faults for more accurate interpretation; better Snap-to-Seismic capabilities where guide points can be displayed in 3D as well as on intersection views to improve interpretation and quality control; new structural modelling features through robust pinch-out modelling; and superior uncertainty representation around faults. The result is more robust, stable and reliable reservoir models. RMS 10.1 also comes with greater workflow integration between static and dynamic domains – thanks to an improved events management utility that strongly supports time-dependent data and facilitates both the building and maintenance of simulation-ready flow models.

Improving the Decision-Making Process. RMS 10.1 includes powerful displays where users can co-visualise, compile and analyse data from multiple sources, provides fast access to critical information through RMS Data Explorer, and enables the advanced presentation of graphical data through high quality hard copy capabilities. Other new features include improved IO (input/output) functionality and new well data management features. The result is complete data integration and no information silos, allowing field planning decisions to be based on the best possible information.

Performance, Productivity and Interoperability improvements. Finally, RMS 10.1 provides the user with increased performance through measurably more responsive and faster views, and greater interoperability through the Roxar API (Application Programming Interface). In addition to the numerous performance improvements, RMS 10.1 now offers the ability to transfer data from the Petrel* (mark of Schlumberger) software platform to RMS in a one-step procedure, enabling extreme ease of transferring data from a seismic interpretation workflow in Petrel* to the RMS workflow.