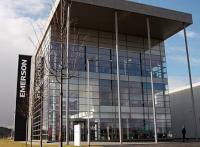 Emerson, provider of industrial automation technology and services, has celebrated the official opening of its new GBP 20 million Solutions Centre in Aberdeen. The facility provides North Sea oil and gas industry operators access to operational support, a broad portfolio of engineering services and state-of-the-art training facilities that will enable them to improve asset productivity.
"This new facility demonstrates Emerson's commitment to support our customers in Scotland and the North Sea," says Stuart Brown, General Manager of Emerson Process Management UK and Ireland. "Given the challenges the industry is experiencing, now is the perfect time to build upon Emerson's well-established operations in Aberdeen and demonstrate to our customers how users of our technology and services can run their operations more efficiently and more reliably."
The opening ceremony was performed by David N. Farr, Chairman and CEO of Emerson, who was accompanied by Mike Train, President - Global Sales, Emerson Process Management, and Steve Sonnenberg, President, Emerson Process Management among other business leaders. Also present were representatives from the oil and gas industry, the Lord Provost of Aberdeen, local councillors and global operators.
Deirdre Michie, Chief Executive of Oil & Gas UK, says, "In the current climate it's encouraging to see signals of confidence in the UK oil and gas industry like the opening by Emerson of this innovative new Solutions Centre. Greater efficiency and co-operation in our work are crucial for securing the future of the North Sea which still holds billions of barrels of oil and gas and has the potential to become the most attractive mature oil and gas province with which to do business."
The facility provides a platform from which Emerson can work closely with its customers to solve the tough problems brought about by the current economic climate. Emerson's service contracts, which include support for fiscal metering, process control and safety system maintenance, spares management and rationalisation, are designed to drive down operational costs and increase system reliability. In addition, Emerson's portfolio of consultancy services ranging from device specification, wireless networks and flow measurement through to process safety, cybersecurity and reliability systems allow ready access to innovative and potentially transformational new ideas and technologies.
Located close to the airport, a regular transit point for its customers, the training facilities in the Aberdeen Solution Centre can be easily accessed and training readily scheduled to coordinate with offshore rotas. "Enhancing the skills of workers helps to increase the efficiency of current offshore assets," explains Brown. "A key part of the centre is the comprehensive educational facilities and operator training systems we can provide."
The Aberdeen Solutions Centre consists of a 2,800 m2 office building linked to a 3,000 m2 service centre and is located on the D2 Business Park, Dyce. It is one of a series of regional solutions centres Emerson Process Management is opening around the world.