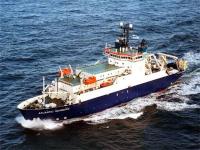 With reference to section 11 of the Calling Notice to the Annual General Meeting (AGM) in Electromagnetic Geoservices ASA (EMGS), the Company's nomination committee proposes Guro Høyaas Løken to be elected as a new board member for 2 years at the AGM to be held on 3 June 2014.
In addition, Jeffery A. Harris and Berit Svendsen are proposed to be re-elected for 2 years.
Chairman Bjarte Bruheim and board member Stig Eide Sivertsen were elected for a period of 2 years at the AGM in 2013. Maria Moræus Hanssen was also elected for 2 years, but has withdrawn from the Board due to potential conflict of interest as CEO of GdF Norway.