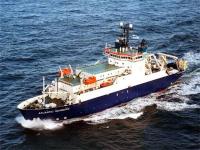 Electromagnetic Geoservices ASA (EMGS) releases information on vessel activity and utilisation 4-5 working days after the close of each quarter. The Company defines "vessel utilisation" as the percentage of the vessel charter period spent on contracted or multi-client data acquisition.
Vessel utilisation for the first quarter 2015 came in at 76% compared with 66% for the first quarter 2014.
In the first quarter of 2015, the Company's vessels were allocated 24% to contract and 52% to multi-client programmes. For the corresponding quarter in 2014, the allocation was 56% and 10% respectively.
EMGS recorded 12 vessel months this quarter, compared with 10.7 in the first quarter of 2014.