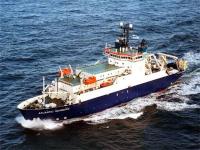 Electromagnetic Geoservices ASA (EMGS) has entered into a data licensing agreement with an international oil company worth USD 8 million for the provision of 3D EM data from EMGS' multi-client data library in the Barents Sea.
"This sale confirms the increased recognition of the value of EMGS' EM technology as an important exploration tool. The addition of a new supermajor to our expanding customer base proves the breakthrough our technology has had in Norway this year," says Roar Bekker, CEO of EMGS.
Of the total sale, data worth USD 4.8 million will be delivered in Q4 2014, of which EMGS will book USD 4.5 million in the quarter after partner's share of the revenues. Data for the remaining USD 3.2 million of the agreement will be booked in 1H 2015.