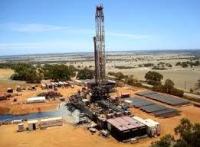 Empire Oil & Gas NL has spud its Red Gully North-1 exploration well in EP 389 in Western Australia's Perth Basin, located 2.4 miles (4 kilometers) to the north of the Company's Red Gully Processing Facility. Proximity to the Red Gully Processing Facility will allow for a fast tie-back and commercialization of the well if successful.
The Red Gully North-1 well will be drilled by the Enerdrill Rig 3 and is expected to take approximately 44 days to reach a final proposed depth of 14,360 feet (4,377 meters). The objective section of the well will be evaluated using wireline logs after total depth is reached.
Empire Oil and Gas CEO Ken Aitken said drilling success at Red Gully North would provide numerous benefits to Empire and its shareholders.