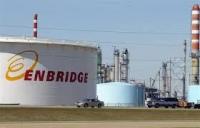 Enbridge Income Fund Holdings Inc. says that shareholders (other than Enbridge Inc. and certain of its related parties) have approved the acquisition of Enbridge Inc.'s Canadian Liquids Pipelines business and certain Canadian renewable energy assets (the "Transaction") by an indirect subsidiary of Enbridge Income Fund (the "Fund"), the terms of which were announced on June 19, 2015.
The assets in the Canadian Liquids Pipelines business are comprised of the Canadian portion of the Enbridge Mainline system and the Alberta Regional oil sands system and include $13 billion in secured growth capital.
"The shareholder vote reflects overwhelming support for the Transaction and will enable the Company and the Fund to move forward in acquiring the Canadian portion of the most strategic liquids pipeline asset portfolio in North America," said Company President Perry Schuldhaus. "The acquisition will transform the Fund into a premier energy infrastructure entity and provide visible growth and significant value for shareholders, delivering an anticipated 10 percent dividend increase on closing. A further 10 percent increase is expected at the beginning of 2016 and each year thereafter through 2019."