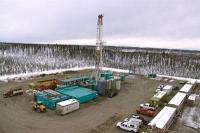 Encana Corporation says that, in connection with its completed offering of 85,616,500 common shares of Encana (the "Shares") at a price of C$14.60 per Share (the "Offering Price"), the over-allotment option granted to the underwriters to purchase up to an additional 12,842,475 Shares (the "Over-Allotment Option") at the Offering Price was exercised in full for additional aggregate gross proceeds to Encana of approximately C$187.5 million.
The sale of the additional Shares today pursuant to the Over-Allotment Option brings the aggregate gross proceeds to Encana from the offering, including the Over-Allotment Option (collectively, the "Offering"), to approximately C$1.44 billion.
"As we announced during our February guidance update, we expect our 2015 capital spending plans and dividend to be fully funded through anticipated cash flow and proceeds from previously announced divestitures," says Doug Suttles, Encana President & CEO. "The successful completion of this bought deal offering further enhances our financial flexibility."