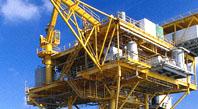 Endeavour International Corporation announced an update on the current production from the first well (W1) at the Rochelle field and the timing of the start-up of the second production well (E2).
Current gross production from the W1 well is 65 - 70 million cubic feet of gas per day with an additional 2,500 - 3,000 barrels of oil equivalent per day ("boepd") of liquids production, 6,000 - 7,000 boepd net to Endeavour's working interest in the field. The first Rochelle well, W1, came on-line in October of 2013.
Due to continued periods of inclement weather in the U.K. North Sea, timing of first production from the E2 well has been delayed from end of December to the second week of January. The Skandi Achiever, the vessel handling the final hook-up of the Xmas tree to the East Rochelle manifold, is prepared to finish the installation as soon as the weather window opens. Upon the completion of the hook-up by the Skandi Achiever, the E2 well will commence production. The combined production from the E2 and W1 wells is expected to far exceed the capacity limits allowed over the Scott platform.