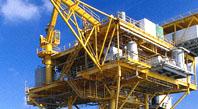 Endeavour International Corporation announced that the valve in the Rochelle field that had been stuck in the 'shut' position has now been opened and production is expected to re-commence in the next few days.
Following the tie-in of the East Rochelle E2 well, production from Rochelle could not be restarted due to a valve on the outlet side of the East Rochelle production manifold that was stuck in the 'shut' position.
A diving support vessel was mobilized on February 22, 2014 and reported this morning that the valve had been successfully opened. This was confirmed by the observed pressure response. The East Rochelle E2 well is expected to be brought on production in the next few days, followed by the restart of production from the West Rochelle W1 well.