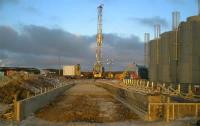 Enegi Oil is pleased to provide the following update.
Operational Update - Western Newfoundland
Black Spruce Exploration (BSE) has provided an update to the Company concerning its activities in western Newfoundland and how these may affect the work programme on the Company's assets that has been previously communicated. BSE has indicated that the commencement of the work programme at Garden Hill, together with drilling of a well on EL1116, is its operational priority and it is expected that the programme will commence in or around April, 2014.
BSE is currently seeking to obtain the required permissions from the regulators and the work programme remains on schedule. The Company wishes to emphasise that the recently announced moratorium with respect to fracking has no effect on these operational plans, which are targeting conventional plays.