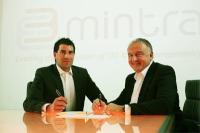 Enerco Venture, an entrepreneurial investment company focused on the oil and gas industry, has declared its second significant investment in its first year of business.
Enerco Venture has invested a six figure sum into Mintra Training Portal Limited, a joint venture between Norwegian firm Mintra A.S. and Enerco Venture. The Aberdeen-based company has already secured £250,000 worth of contracts in its first month of business.
Mintra is an established leading provider of competency solutions for the oil and gas industry with 300 oil and gas clients. Mintra in Aberdeen will be headed up by managing director Peter Conner, who has more than 30 years international experience in the learning, training and competency market within the oil and gas industry and was previously a Director of Petrofac Training Services.
Formed by Jamie Bennett (39) in 2010, Enerco Venture completed its first deal last year. Mr Bennett previously founded Atlas Interactive in 1995 - during the 14 years as CEO he created a global business, delivering products and services across 30 countries. Atlas Interactive was sold in 2007 and Mr Bennett exited the company in 2009.
Mr Bennett, chairman of Mintra, said: "My previous experience and track record in this area of the oil and gas industry is a good fit with Mintra. This joint venture has been created in response to the industry's demand for an evolution in the marketplace,combined with service excellence. The company already has an extensive track record having operated for 14 years with 250,000 personnel each year using Mintra products, systems and services. Mintra now has a team of 70 specialists in Aberdeen, Oslo and Stavanger and has already invested £2 million in the company's flagship TrainingPortal learning management system."
Mr Conner, managing director of Mintra, said: "Mintra is a fusion of well known people, talent and experience in this field. Having already won £250,000 worth of contracts in our first month, Mintra will see an immediate and rapid expansion of the Aberdeen base, including enhanced local support and production. This underpins Mintra's commitment to its customer base and is a direct response to the needs of the market. The joint venture will focus on the needs of the oil and gas industry in the competency area and will provide a range of innovative and evolutionary products and services both locally and internationally."
Mintra will initially be based in Enerco Venture's refurbished offices in Albert Street, Aberdeen. Enerco Venture recently completed a £1million investment in its new premises 'Enerco House' in Aberdeen's West-end.