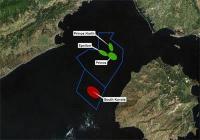 The scientific staff of Energean Oil & Gas evaluates all the data emerging from the reservoir, in order to achieve a rational exploitation from the new drill, which is estimated to produce 820,000 bbls in total.
Mr. Mathios Rigas, president and CΕΟ of Energean Oil & Gas stated:
"The management, the geologists, the engineers and the 300 employees of Energean Oil & Gas in Kavala have proven once more that systematic efforts and investments driven by scientific research can lead to the revival even of mature oil fields like Prinos. However, it is clear that Prinos' reserves are declining and it is obvious that there is no alternative way to increase the domestic hydrocarbons production but to carry on with the development of the new blocks offered through the open door procedure and avoid further bureaucratic delays.
Through new investments and international partnerships, Energean Oil & Gas is determined to continue its efforts to emerge as the first Greek company which does not only lead the domestic hydrocarbon sector but which seeks opportunities globally, as well.