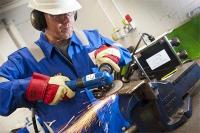 Global mechanical engineering group EnerMech Ltd. says that general manager Niall Conlon has been promoted to director of its Australian operations, with Ciaran Hallinan taking over his role as general manager.
EnerMech provides seven integrated business lines to the oil, gas and power industries and expects revenues in Australia to grow by more than 40 percent in the current year, with turnover exceeding $111.9 million (AUD 150 million).
The promotion is in recognition of Niall's contribution to the strong growth of Australian operations following EnerMech's 2013 acquisition of industrial services firm Vicon Services.
His replacement as general manager is Ciaran Hallinan, an energy, resources and infrastructure specialist with 20 years' experience, who joins EnerMech from WDS Limited where he was chief executive of the firm's Energy and Infrastructure division.
UK-headquartered EnerMech has operations in seven Australian cities stretching from Perth to Gladstone, Darwin and Melbourne and employs more than 500 staff, with numbers expected to grow to more than 700 in the next year.
The company has operations in 20 countries and is represented in all of the global oil and gas hubs where it provides a broad range of mechanical services, including cranes and lifting, valves, hydraulics, industrial services, process, pipeline and umbilicals (PPU), equipment rental and training services.