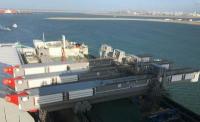 Enerpac has supplied the high pressure, hydraulic cylinder technology for the topsides lift system beams on Allseas 'Pioneering Spirit' vessel. The cylinders are an integral part of the vessel's lift system, enabling the installation and decommissioning of complete topsides weighing up to 48,000 tonnes.
'Pioneering Spirit' is the world's largest platform installation / decommissioning and pipelay vessel. The vessel's 16 lifting beams feature 64 Enerpac CLRG-Series high tonnage double acting hydraulic cylinders arranged in groups of four. Designed specifically for heavy lifting up to 1,000 tonnes, the cylinders were delivered within three months of Enerpac signing the contract with Allseas.
The Enerpac double-acting cylinders provide very high levels of precision and control; essential factors in successful heavy lifting. This level of lifting accuracy enables the 'Pioneering Spirit' to use the fast lift method. During installation and decommissioning, the lifting beams are extended allowing platform topsides to be lifted several metres.