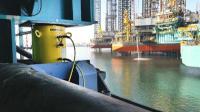 Enerpac, with its official distributor Al Masaood Trading, Dubai, has supplied Lamprell, with an EVO-Series Synchronous Lifting System to weigh a newly completed jack-up rig.
The Enerpac multifunctional synchronous lifting EVO system monitors and manages lifting, lowering, weighing, alignment and load transfer procedures of non-uniform distributed heavy loads. The jack up rig cantilever and drill floor substructure weighing system comprised a 12 point synchronous EVO weighing system, two 600 tonne hydraulic jacks, four 200 tonne hydraulic jacks and accessories. Al Masaood Trading supplied the EVO system to Lamprell within 4 weeks to meet tight project timescales.
Compact Weighing System
A key benefit of the EVO weighing system is its compactness. Space restrictions under the jack-up rig prevented the use of other weighing systems without costly rework to the load structure. To make the Enerpac jack design even more compact the weighing system used calibrated high pressure transducers in place of load cells.