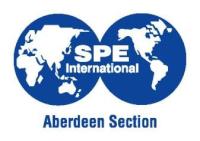 Euan Duncan, Discipline Lead Reservoir Engineer at BP, will address SPE Aberdeen's members and the wider public on 23 April, at a presentation covering how EOR works and the opportunities this technology presents when conditions are right.
Mr Duncan will discuss the BP North Sea EOR programme and lessons learned from water-alternating gas projects in the Miller, Ula and Magnus fields. He will also give an update on current projects, including the Clair Ridge EOR scheme using LoSal® EOR and polymer applications in the Schiehallion field, highlighting how these are being taken from the research stage to operational projects.
Mr Duncan said: "Applying new technology, such as EOR techniques, is challenging. This can be due to issues such as project complexity, lack of confidence in the technology or the length of time taken until results are seen.