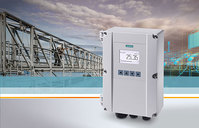 Siemens has launched the Sitrans FS220 clamp-on ultrasonic flowmeter, the newest addition to the growing portfolio of next-generation digital flow measurement systems from Siemens. Combining the Sitrans FST020 transmitter with Sitrans FSS200 externally mounted sensors, the Sitrans FS220 offers the most commonly required measurement functions with superior accuracy, cost efficiency and ease of use. The new flow system is suitable for multiple industries requiring budget-conscious liquid flow instrumentation, including water and wastewater, power, HVAC and chemical.
The new Sitrans FST020 transmitter with its integrated PerformancePLUS™ algorithm has been upgraded from the previous version to deliver enhanced performance, simplicity and options for customisation. It measures with consistently high accuracy of 1% of flow rate, improved zero stability resulting in minimal need to set a zero point and repeatability of 0.25% according to ISO 11631.
The Sitrans FST020 provides a user-friendly experience from initial startup through day-to-day operation and servicing. The large graphical display features intuitive menu navigation, multiple setup wizards, and the ability to display up to 6 user-configurable parameters on the same screen as well as to customise 5 different views. The innovative SensorFlash® microSD card provides access to all product data and certificates directly from a PC or via the transmitter's built-in USB service port. Its datalogging and audit trail feature automatically stores up to 100 records per log of process and diagnostic parameters or changes made to device settings. This function allows operators to analyse the performance of each process and address any potential issues, resulting in optimised plant efficiency and higher-quality end products. And the transmitter's digital platform is proven in use, as it shares HMIs and menu structures with the more advanced FST030 clamp-on ultrasonic transmitter as well as the FCT030 Coriolis transmitter.
The Sitrans FST020 transmitter has been developed to work with the existing line of Sitrans FSS200 clamp-on ultrasonic sensors, which can be installed on pipes as large as 10 m (394 in) with no process downtime. As the sensors never make contact with the medium and do not feature any moving parts, they require virtually no maintenance. Additionally, for the most challenging applications, optional WideBeam® transit-time sensor technology handles high levels of aeration or suspended solids without any significant reduction in performance.