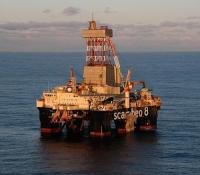 The Petroleum Safety Authority (PSA) has given Eni Norge consent for exploration drilling in block 7122/10 in the Barents Sea.
Operating company Eni, in conjunction with the other licensees in production licence 697, has applied for consent to drill an exploration well in block 7122/10 in the south-western sector of the Barents Sea.
We have granted consent for this.
The well to be drilled, 7122/10-1 S, is to investigate an exploration prospect named Goliat Eye.
The drilling location is due south of the Goliat field, of which Eni is the operator, at geographical coordinates:
71° 10' 17.39" N
22° 12' 28.57" E
Water depth at the site is 342 metres.
Drilling is scheduled to begin in the first half of September, and will last at least 37 days.
The well is to be drilled by the Scarabeo 8 mobile drilling facility. This is a semi-submersible drilling facility of the Moss CS50 MKII type, operated by Saipem Norge. It was built in Russia and Italy and commissioned in 2012. The facility is classified by DNV GL and registered in the Bahamas.
Scarabeo 8 was issued with an Acknowledgement of Compliance (AoC) by the PSA in May 2012.