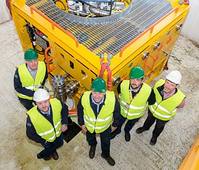 Production optimisation specialist company Enpro Subsea has been awarded a frame agreement contract to support multinational exploration and production (E&P) company Tullow Oil as part of the operator's strategic activities in Ghana.
The contract will see the Aberdeen-headquartered firm delivering its innovative subsea intervention technologies to support Tullow's plans with new and existing wells in the Jubilee & TEN fields.
The campaign will see a consignment of up to 15 of its patented flow access modules (FAMs) being deployed in phases during 2018 and 2019 to facilitate a range of immediate applications including, multiphase metering, scale squeeze and acid stimulation in addition to potential future applications like fluid sampling and water cut metering. The FAM system provides capital efficient, fast track field development using standard subsea hardware. The work will continue to be delivered by Enpro Subsea personnel as they work towards establishing a permanent presence in the region.
The first award in 2016 saw Enpro supplying five FAMs to the E&P business which also marked its first export of its unique modular systems to a major international region.
Enpro Subsea managing director, Ian Donald, says, "We're proud to be working with Tullow. This latest order from them reflects the continuing momentum and interest in Enpro's ability to deliver proven technology."
"Critically, Enpro's FAM technology provides Tullow with a universal platform deployed at multiple locations, which will enable them to retrofit any one of a number hardware solution at any time during the field development. We look forward to strengthening our relationship with Tullow Oil as this field continues to mature," Donald adds.
Last year, Enpro's FAM technology was a contributing factor to a major operator in the Gulf of Mexico achieving first oil in just 11 months – a record time for the operating company and one month ahead of schedule.