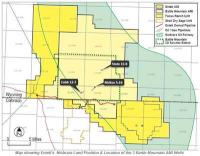 Entek Energy Limited is pleased to give the following update on the Cobb 12-7-HA1 well as part of the 2015 Battle Mountain AMI drilling program. The Cobb 12-7 well is the first of three wells scheduled to be drilled and tested this year by the Operator of the Battle Mountain AMI, GRMR, a private company associated with East Resources, Inc. Entek owns a 20% working interest in the Battle Mountain AMI and related leases, with GRMR holding the remaining 80%.
The Cobb 12-7 well is located in the southern part of the Battle Mountain 3D seismic survey and is being drilled as a high angle directional well aimed to intersect naturally fractured fault zones within the Niobrara oil bearing formation. The target measured depth of the well is 9,995 feet.
As at 17:00 local US time on 19 July 2015 the well has reached its intermediate section total depth of 5,962 feet where 9 5/8 inch casing will be set before drilling out into the Niobrara target zone.
The Cobb 12-7 well is scheduled to be followed by the drilling of the McKee 5-16-H1 (McKee 5-16) and State 15-8 wells which are also located within the Battle Mountain 3D seismic survey as shown on the map.