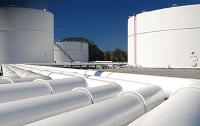 Enterprise Products Partners L.P. says that the partnership has decided not to move forward with development of its proposed Bakken-to-Cushing crude oil pipeline. Commitments received from potential shippers during the recent open season were not sufficient to support the project.
Enterprise Products Partners L.P. is one of the largest publicly traded partnerships and a leading North American provider of midstream energy services to producers and consumers of natural gas, NGLs, crude oil, refined products and petrochemicals.
Services include: natural gas gathering, treating, processing, transportation and storage; NGL transportation, fractionation, storage and import and export terminals; crude oil and refined products transportation, storage and terminals; offshore production platforms; petrochemical transportation and services; and a marine transportation business that operates primarily on the United States inland and Intracoastal Waterway systems and in the Gulf of Mexico.