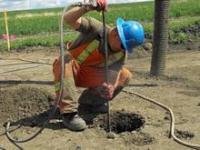 Enterprise Group, Inc. has appointed John Campbell to the position of Lead Director of the Company's Board of Directors, effective immediately.
Mr. Campbell currently serves as an independent Director of the Company. Serving as the Lead Director, he will be responsible for evaluating the performance of both the Company and its senior executives, representing the best interests of the Company's shareholders in an enhanced capacity.
"We are very pleased to announce that John Campbell will serve as the Lead Director of our Board of Directors," stated Leonard Jaroszuk, Enterprise's President and Chief Executive Officer. "As Enterprise continues its evolution, it is vital that the quality of our corporate governance makes commensurate improvements. Appointing an independent Director of Mr. Campbell's calibre to the position of Lead Director is a major step forward in that direction. Mr. Campbell's counsel has proven invaluable over the past year, and we look forward to continuing to benefit from his wisdom and leadership."