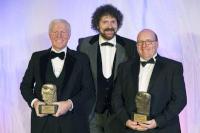 Bob Keiller, CEO of Aberdeen-headquartered Wood Group has been named in the Entrepreneurial Scotland Hall of Fame at this year's Entrepreneur of the Year ceremony held on Thursday, 27 November by Entrepreneurial Scotland in association with Deloitte.
Established in 2002 to recognise exceptional leadership, the Entrepreneurial Scotland Hall of Fame recognises successful entrepreneurs in Scotland who had made a huge contribution to Scottish business life. Mr Keiller follows esteemed names like Sir Moir Lockhead, Donald Macdonald and Sir Ian Wood who have all received the accolade.
The event on Thursday, which saw Peter Vardy of the Peter Vardy Group named as Entrepreneur of the Year, also saw the official coming together of the Saltire Foundation and the Entrepreneurial Exchange to form Entrepreneurial Scotland.