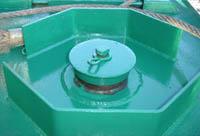 Aberdeen-based Environstore, a leading supplier of drill cuttings skips and containers to the global oil and gas industry, has made a substantial £200,000 investment in its rental fleet to further secure its market leading position and impeccable safety record.
This significant investment sees the SME increase its fleet of drill cuttings containers, which are manufactured and maintained to the highest standards, DNV 2.7-1 / EN 12079.
Greg Spence, managing director of Environstore said: "It is widely accepted that the drilling period on any platform or rig can be one of the highest risk times and Environstore has always prioritised safety and service over all else. Hand injuries offshore are amongst the most common cause for LTI and our vacuum fill system negates the number of lid lifts and therefore hand injuries. Our safety record is one we are extremely proud of.
"As the company has expanded so has our market offering, enabling us to supply directly to operators, who recognise Environstore as a market leader in the domestic and global rental markets, due to our quality products and service. Any interruption to the drilling period due to skip supply issues is extremely costly, therefore, we can now offer managed fleet services direct to operators or driller's on a well by well or annual basis."