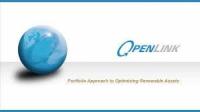 OpenLink says that Energetický a Průmyslový Holding (EPH) has selected its flagship energy trading and risk management solution, Endur, for gas and power as EPH seeks to capitalize on increased opportunities in the European wholesale and retail markets.
EPH is a vertically integrated energy group including over 40 companies in the Czech Republic, Slovakia, Germany, Poland and with recent acquisitions also in the UK, Italy and Hungary.
The group represents one of the largest coal mining and electricity generation groups in Germany, a leader of the combined heat and power sector in the Czech Republic, and a core player in the Slovak gas and power market. In Italy, thanks to the acquisition of CCGT power plants with a total production capacity of almost 4500 MW, the group is viewed as one of the largest foreign investors to recently enter this market. With the establishment of a new company, EP Commodities, the group is going to significantly enhance its wholesale gas trading activities across the region, from Czech and Slovak VTPs as far as the Dutch TTF or Italian PSV.