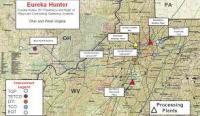 Eureka Hunter Pipeline, LLC says that throughput volumes on Eureka Hunter's gas gathering pipeline system located in West Virginia and Ohio, have now reached a new record high of over 700,000 MMBtu per day on Thursday, July 2, 2015.
The Company recently announced its intention to pursue the sale of 100% of its equity ownership interest in Eureka Hunter pursuant to a Current Report on Form 8-K filed by the Company with the Securities and Exchange Commission on June 25, 2015.
Based upon current market conditions, the Company believes that a sale of all of its equity interest in Eureka Hunter could generate up to approximately $600 - $700 million in gross cash proceeds to Magnum Hunter.